The Best Cape May Oceanfront Hotel!
The Montreal Beach Resort is Cape May's finest oceanfront hotel. It's just steps from the beach in beautiful Cape May, New Jersey. Bask in the sunshine from your private balcony with panoramic ocean views. Or take a dip in the water just steps from your exclusive beach cabana. Let the Montreal Beach Resort make your New Jersey shore dream vacation a reality.
Our well appointed rooms and suites offer deluxe accommodations at an exceptional value. Montreal Beach Resort has a long-time tradition of providing the best customer service in Cape May. Join us, and let us help you create your very own Montreal Moments.  
The Montreal Beach Resort is a complete vacation destination, offering unmatched amenities in Cape May. Enjoy beachfront dining at Harry's Ocean Bar & Grille, featuring the best views of the Atlantic Ocean from our rooftop deck. With an exclusive beach club, oceanfront pool and a wine and liquor shop, the Montreal Beach Resort elevates your Cape May hotel vacation. Book online now, or call (800) 525-7011 for personalized reservation service.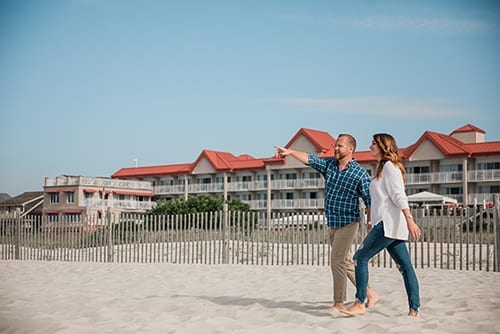 Escape to Cape May this November!
November in Cape May sees the transition from fall to the warmth of the holiday season, and it is one of our favorite times of year in our seaside town. November at the Montreal Beach Resort is even more special this year because Harry's Ocean Bar & Grille, our award-winning on-site restaurant, will be open every weekend!*
Our New Commemorative Coffee Table Book Recounts
History of Cape May and this Long-Standing and Successful Hotel.
The historic Montreal Beach Resort has something for all the family to love with a perfect beachfront location.
We understand our guests need a wonderful vacation experience at an unbeatable price.
Trending On